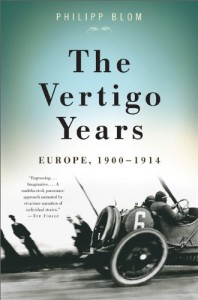 Philipp Blom's central thesis is that the years 1900-1914 tend to be overlooked by historians analysing twentieth century history due to the dramatic events that followed, however he asserts that everything that followed has it genesis in these years. He makes a good argument too. Like our own era, the era was characterised by an incredible rate of technological change, profound social upheaval, etc. and Blom's book has given me a good insight into life during the early years of the twentieth century.

There's a chapter for each year beginning in 1900 and ending in 1914 and each year is introduced by a significant person or event. Each chapter works as a stand alone article and I jumped around a bit when I read the book.

The book places an emphasis on social and cultural history, and covers a wide range of topics e.g. modernism, women's suffrage, philosophy, Freud, telecommunications, neurasthenia, the Dreyfus affair, the growth of cities, etc. and convincingly demonstrates how the social and cultural changes often associated with the aftermath of WW1 would probably have all happened anyway.

The final chapter is called "1914: A political murder" however it's not about the assassination of Franz Ferdinand, it's about Henrietta Caillaux, the wife of the French finance minister, who killed the editor-in-chief of Le Figaro. The background of the crime is a tale that Blom could not have invented any better, a sleazy affair and an aggressive media campaign against the minister, combined to create the dramatic crime. The French public lapped the story up, meanwhile the shot in Sarajevo, fired at the same time, was hardly noticed.

The book packs a lot in and is well worth reading for anyone interested in the era, or indeed twentieth century history.